We are the

Murray family

,
gospel-centered, church-planting, disciple-making missionaries to Taiwan.
Are you interested in our mission?
Pick any time from the calendar for a personalized video presentation.
We maximize the fame of Christ's name among the nations through…
We are gospel-centered missionaries. Salvation is by faith alone; therefore, the bold proclamation of the gospel is our highest priority, our primary method, and our most sacred task for Kingdom expansion among the nations for the glory of God alone.
We are church-planting missionaries. Christ alone is the head of the Church, not the missionary. Our goal is to plant self-supporting churches led by biblically-qualified national leadership and governed by Scripture alone.
We are disciple-making missionaries. Training up committed followers of Christ is an indispensable imperative of the Great Commission. Life-on-life discipleship is our primary method of preparing national leadership and nurturing new believers to biblical maturity by grace alone.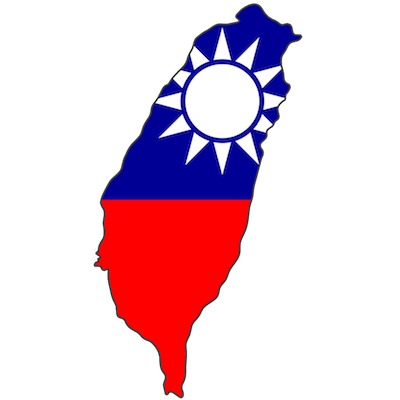 Taiwan has an "unreached" population* of 4.4 million, and 2% of the total population identifies as "evangelical Christian."
*Joshua Project defines the "unreached" as, "a people group among which there is no indigenous community of believing Christians with adequate numbers and resources to evangelize this people group without outside assistance."
Taiwan needs (at least) 94 more missionaries to reach the "unreached" populations (that's 1 missionary for every 50,000 individuals).

Taiwan has the second largest unreached Hakka people group in the world—over 4.2 million.

Taiwan ranks in the top 20 most densely populated countries worldwide.

Taiwan is the size of New Jersey and Connecticut combined, but double the population.

Taiwan has complete religious freedom as the "Republic of China."

Taiwan has a free press and a GDP of $24,337 per capita ($530 billion [2016]).

As a leading computer chip manufacturer, Taiwan exports electronics around the globe.
In God's sovereignty, I was born into a Christian home. My Christian…
continue reading...

...education exposed me to the gospel at an early age. Through the teaching of God's Word in a Christian school context, I learned of my dire need for Jesus Christ as my personal Savior.

By the mighty workings of the Spirit of God in my young life, I realized my inherent sin was unacceptable before our holy God. By grace through faith, I placed my trust exclusively in my Savior, Jesus Christ. By the grace of God, I continued in the faith, attended church at every opportunity, and genuinely desired to grow in the knowledge of the God from the Bible.

As a teenager, God was working in my heart tremendously. Under the constant preaching of God's compelling Word, God moved my heart to consider full-time ministry and missions work. God placed in my heart a desire for pastoral ministry, and I fully committed myself to train for missions and ministry throughout my teenage and young adult life. During those years of serving diligently in the local church, God often turned my attention to global missions. God used the startling realization of the unreached and my home church's international outreach ministry (Barnabas Society) to college students at Indiana University to considerably stir my heart for the glory of God among the nations. God continued to strengthen that course into global missions throughout my college days. Today the Lord continues to invigorate my soul to reach the Chinese people with the gospel.
I am truly thankful to God for drawing me to salvation in Christ. It was…
continue reading...

...in my teenage years when I realized my need for Christ as my Savior. After accepting Christ. I became eager to learn about God through His Word. The Lord put in my heart a desire for ministry and to serve Him with my life.

God continued to grow desire for missions during my college days. It was through preaching, God's Word, and missionary biographies that my love for missions grew. My heart became burdened for those in other countries who had never even heard of Christ. It was specifically in my second year of college when God stirred my heart for missions. I remember praying and telling the Lord that I was willing to go. Little did I know at the time, although God surely knew, that He was preparing me for the mission field.

As I consider the gospel and what Christ has done, I am constrained to not live my life for myself, but rather for Him who died for me! (2 Corinthians 5:15)

When I was in Taiwan for our six-month internship, God showed me the great need for the gospel in Taiwan. It was sobering when I talked to people who had never heard the gospel, but it was a great joy to share and explain the truths of God's Word to them!

I look forward to returning to Taiwan with the heart and desire to share the gospel, disciple ladies, and be a helpmeet to my husband as we focus on planting churches for God's Kingdom.
Marriage, Ministry, and Missions

Ben and Natasha met and fell in love at bible college in 2008. Ben proposed to Natasha at Santa Monica beach, and a miracle happened, she said yes! Before their vows and life-long bond in marriage, they were already committed followers of Jesus Christ seeking to magnify His name with their lives indepenently—now they glorify God together as a married couple.

At the start of 2012, they settled in Ellettsville, Indiana (near Indiana University) and began serving at their home church. They both intended to begin full-time fundraising for global missions work from the beginning of their lives together, but God mercifully redirected their steps to dig deeper roots in their local church ministries and grow in grace for the work He was preparing them to do. In May of 2012, God called Ben and Natasha to intern at Lifeway Baptist Church and serve alongside its pastors. Soon, God prompted the congregation to take Ben and his family on full-time as an outreach pastor. In 2014 their son was born, making them thrilled-but-terrified, new parents. By God's grace, Ben and Natasha have joyfully embraced the awesome responsibility of being a disciple-making parent. It is their God-given role and passion to raise their son in the knowledge of God through the teachings of Scripture.

From 2012 to 2016, Ben and Natasha diligently and faithfully served 300+ members of their church and minister to countless more in their community through passionate evangelism, transporting children and families to church on Sunday, leading evangelistic events, and lovingly ministering to the sick and needy. Ben preached on a weekly basis to children, and, on occasion, to the entire congregation of Lifeway Baptist Church. With the assistance of church family and as a married couple, they labored together as a team to organize children's church and teach children of all ages about the glorious gospel and infinite fame of Jesus Christ.

Then, in June 2016, God moved the Murrays overseas to Taiwan. Retrospectively, Ben and Natasha confess God's sovereign timing is always best, and they readily admit the necessity of practical ministry training—it prepared them for the next stage God had in store for them: God's Kingdom Work in Taiwan. Through the gracious financial support of their sending church, they lived in Taiwan for six months. Through the mentorship of experienced missionaries already established in Taiwan, the Murrays began learning Chinese, serving in the missionary church-plant in Kaohsiung, and making disciples with English-speaking Taiwanese men and women. By the end of their short-term internship with Project China, they moved back to the States affirmed of their joint-calling as missionaries. In 2017, they immediately began the fundraising process with full intentions to return to Taiwan by 2020. Today, they continue to work full-time to raise the necessary monthly financial support from the God-enabled giving of churches and individuals committed to the spread of the gospel worldwide.

As Kingdom ambassadors of the risen King, Jesus Christ, the Murrays are going to Taiwan. It is their goal to proclaim Christ, plant churches, and prepare national leadership for the glory of God and the advancement of God's kingdom. Through God's gifting, guidance, biblical counsel, on-going missionary training, and continual pastoral care, the Lord has solidified the foreseeable future course of their lives into foreign missions. Their prayer for their future ministry in Taiwan is for spirit-filled longevity and kingdom effectiveness. By God's enabling grace, they are committed to a lifetime of service to the Lord in Taiwan. With hearts of full of the overwhelming joy, they ask you to support them in this kingdom-worthy cause for the sake of the gospel and the glory of God alone. Will you support them with your fervent prayers and send them with the necessary funds for this God-glorifying cause?
Education and Training

Ben graduated with a Bachelor of Arts in Biblical and Theological Studies. Ben is gifted to teach and preach. Natasha graduated with a Bachelor of Arts in Elementary Education proficiencies in biblical studies and musical education. Natasha is a gifted flutist. Anticipating God's directing hand to foreign missions work, both Ben and Natasha earned their TEFL/TESOL certification to teach English as a second language, if necessary.

Ben is currently pursuing a Master of Arts in Biblical and Theological Studies entirely online through Phoenix Seminary, an ATS-accredited, theologically conservative divinity school, and he plans to finish his master's level degree by May 2020.

Ben and Natasha share a desire to grow in grace in increase in the faith. They strive to add to their exegetical knowledge and practical application of Scripture for life and ministry. They share an avid eagerness to study God's Word and augment their studies by reading good books and referencing theological resources. They diligently apply themselves to be better equipped for evangelizing the lost, making disciples, and planting churches in Taiwan for the glory of God. Through monthly missions-training with Project China, the consultation of an Advisory Team, and theological training through ATS-accredited seminary studies, they continually prepare themselves to faithfully serve as God's kingdom ambassadors as they share and proclaim the marvelous truths of the gospel throughout each day of their lives.
Scripture Alone
Scripture alone is the final authority; it is comprehensively authoritative, truthful, and trustworthy in all its contents.
Faith Alone
The righteous merits of Christ are credited to us by faith, not works; therefore, we are justified by faith alone.
Grace Alone
Our salvation depends and rests solely on God's unmerited grace, extended to us by God's undeserved mercy.
Christ Alone
Only by the effectual, substitutionary atonement of Jesus Christ's life, death, and resurrection are we redeemed.
Glory to God Alone
All things exist and are sustained by the power of God for the glory of God. All fame be to God alone!
Our mission is centered on the gospel. We believe that cooperation in the same gospel should be sought out for Kingdom work.
Our mission is committed to both financial and missional integrity. We exhibit our stewardship of funds through frequent newsletters.
Our mission is dedicated to maintaining a personal devotion to Christ as the sole giver and sustainer of spiritual vitality in the Christian faith.
Our mission is dedicated to the expansion of the Kingdom through the mandate of the Church given by Jesus Christ, our Lord and King.
Our mission is commissioned by the local church, operates under the headship of Christ, and is governed by Scripture alone.
Our mission is guided by the ethical standards of the Scriptures, cultivated through intentional conversations with our Advisory Team.
By God's grace, we are on schedule to return to Taiwan by Spring 2020. Your giving helps achieve this goal.
Monthly Support Percentage (%) Level
Global missions has a cost, but because of the infinite and supreme worth of Christ, we joyfully offer our lives for the

sake of the gospel

!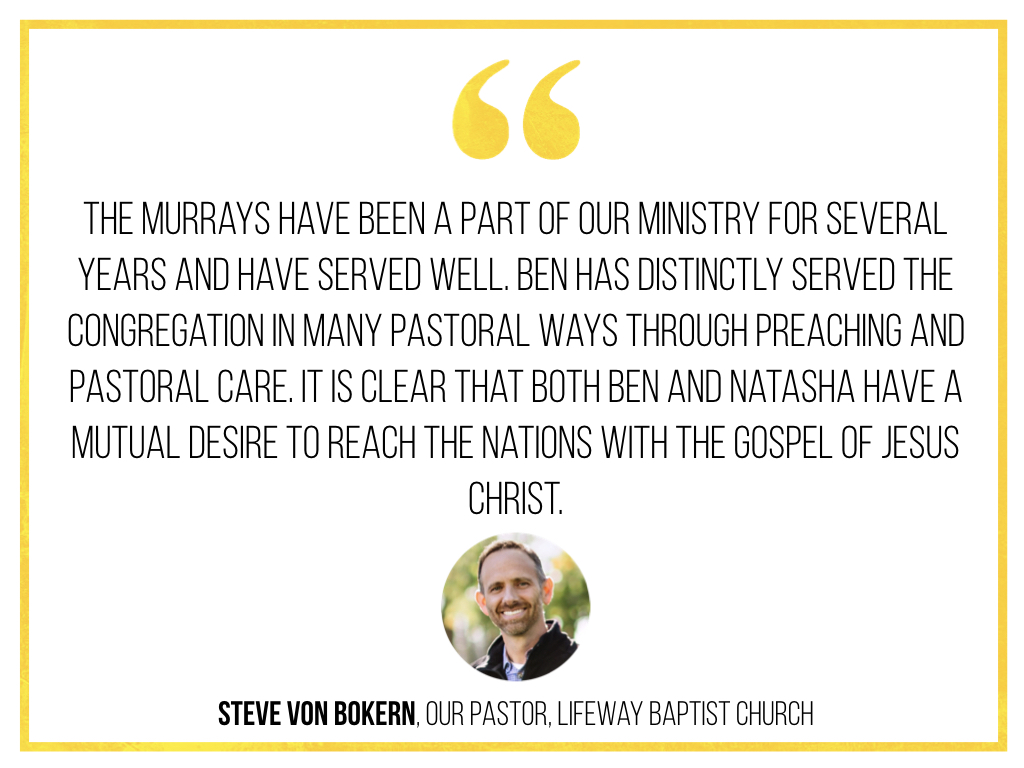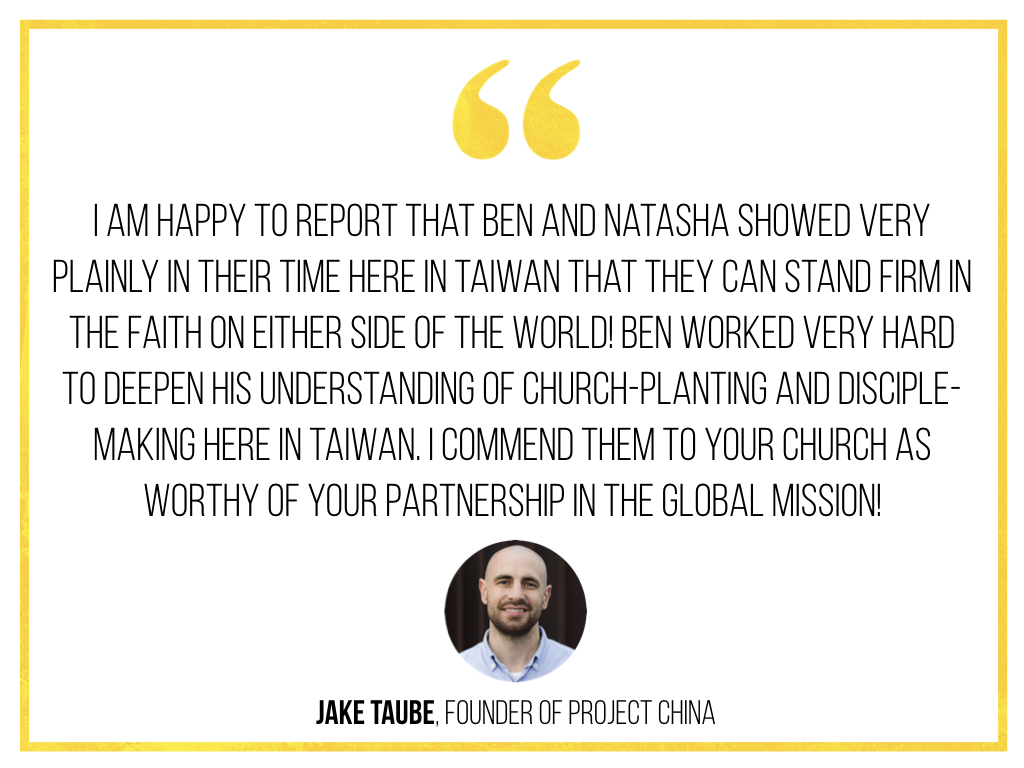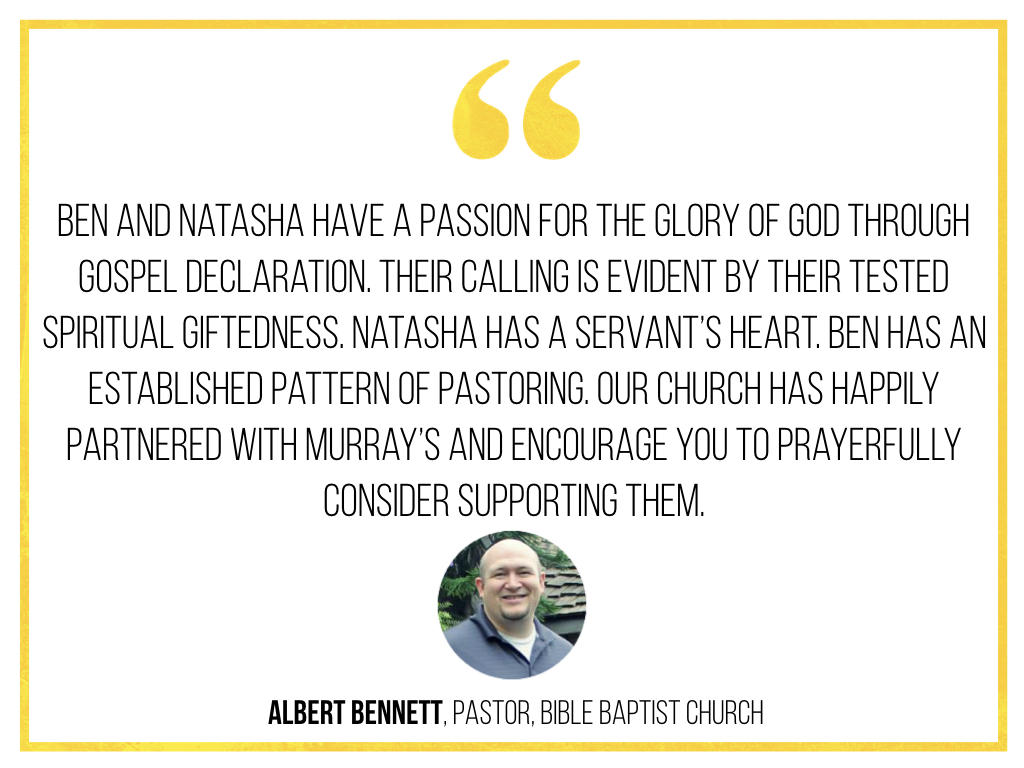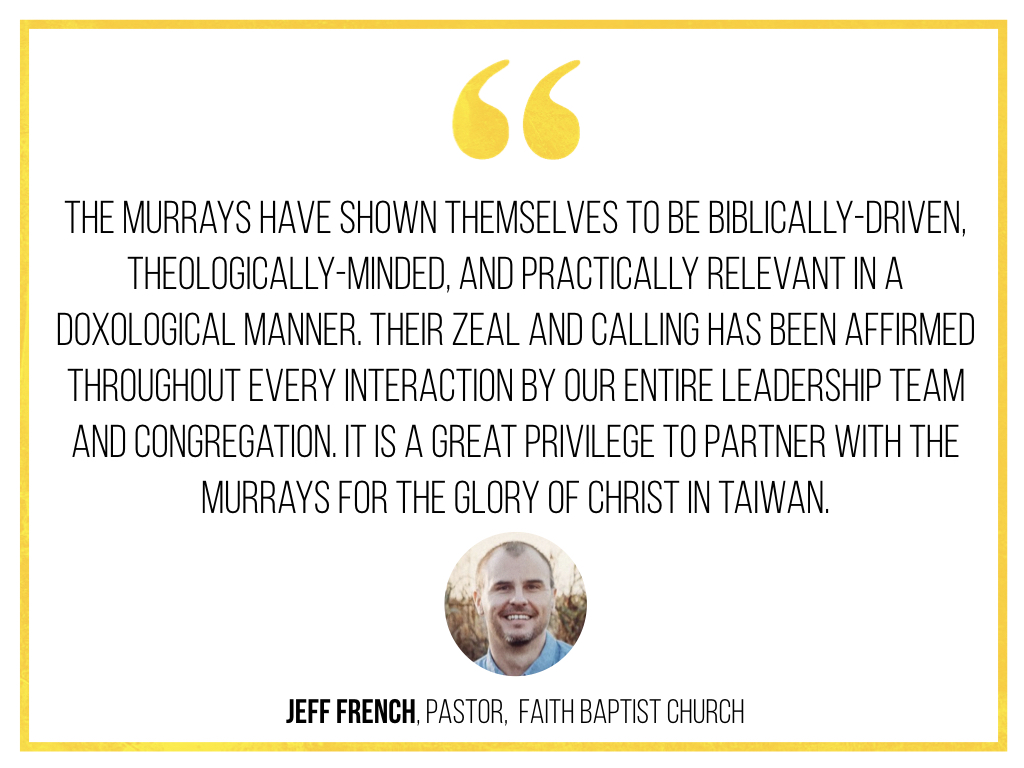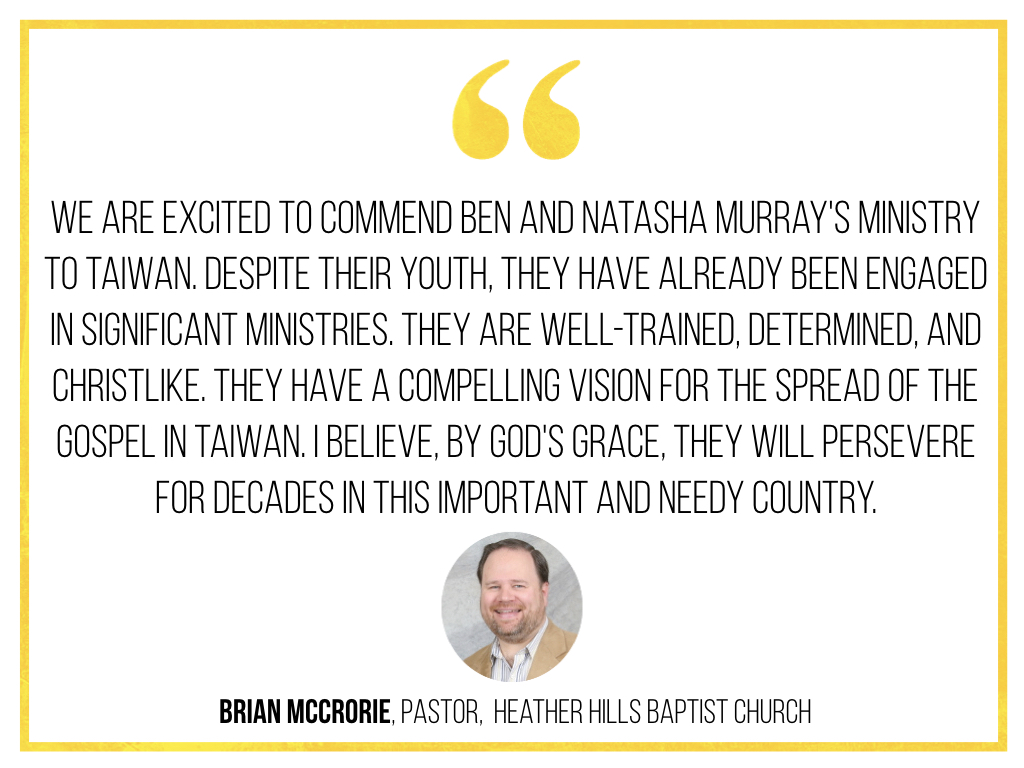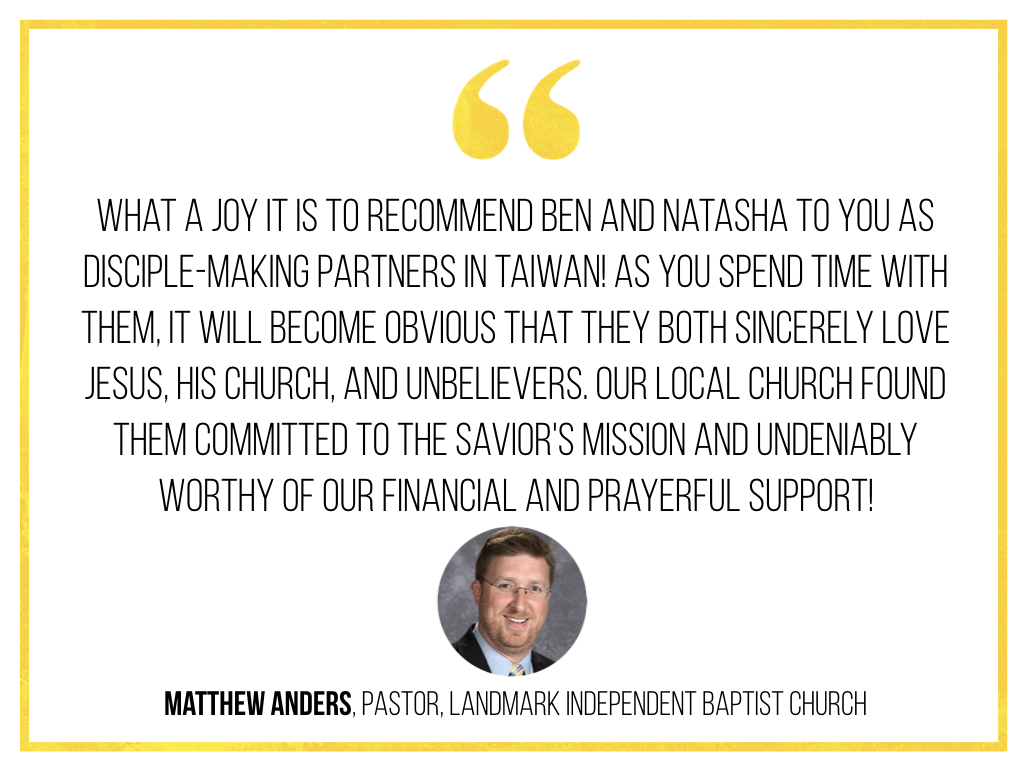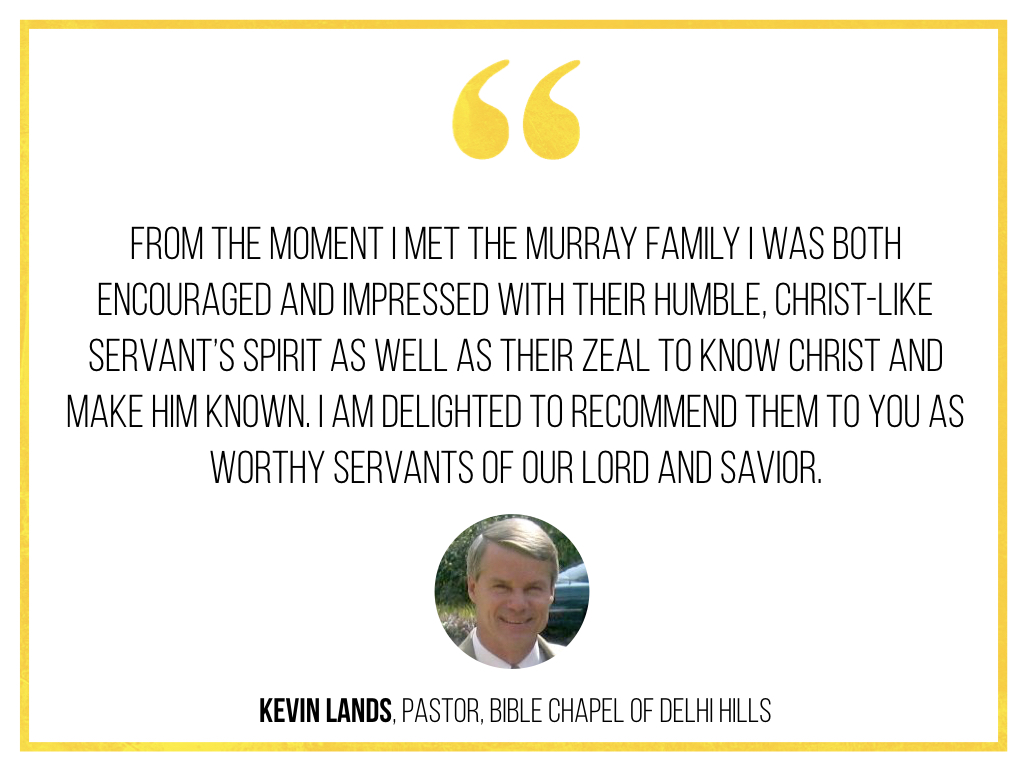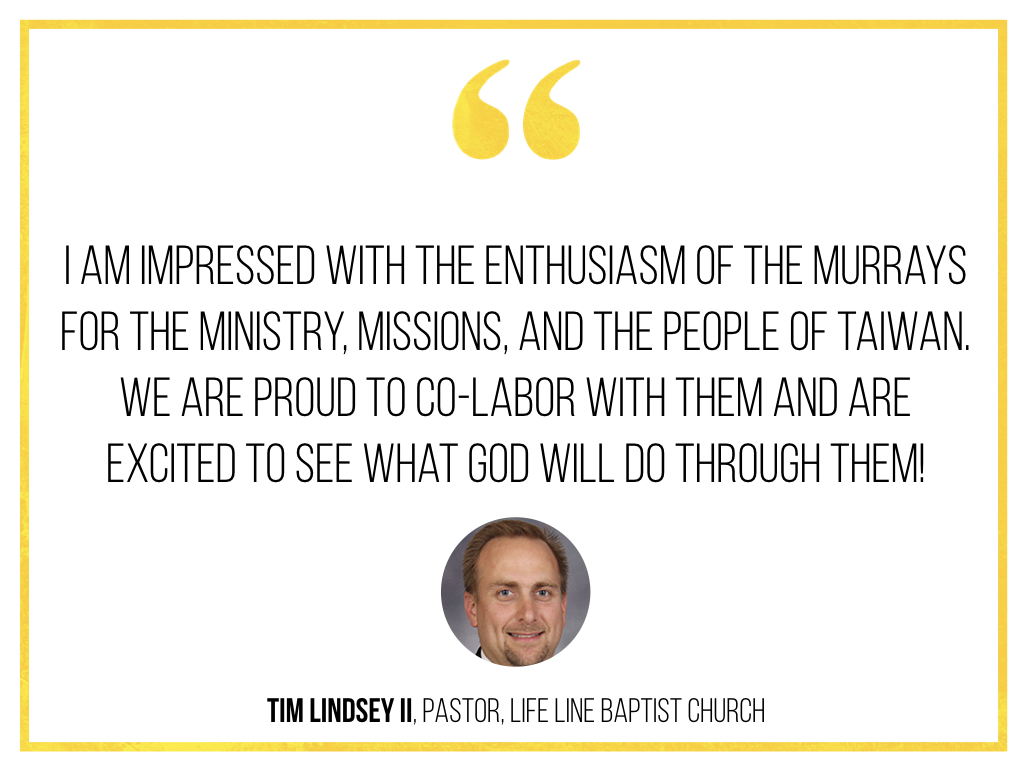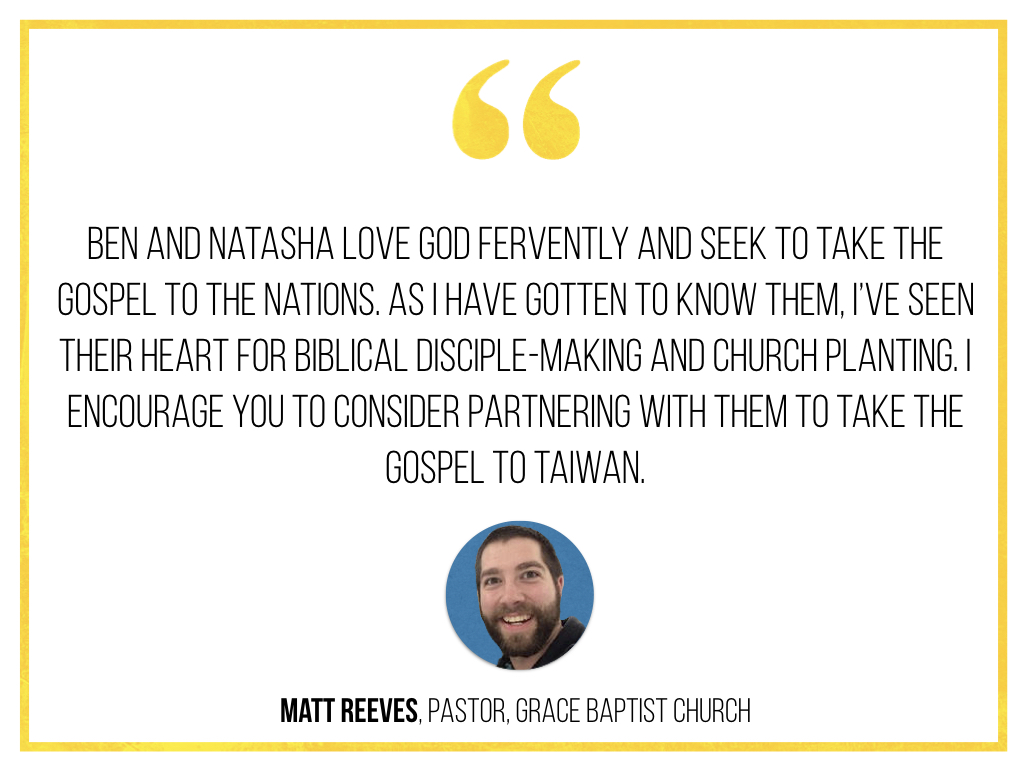 Lifeway Baptist Church is a pastor-led, deacon-served, congregational, theologically conservative, Baptist church committed to proclaiming the gospel and making disciples for the glory of God.
Project China is a network of missionaries committed to advancing God's kingdom through bold gospel proclamation, indigenous church-planting, and life-on-life disciple-making in China and Taiwan.
Our Advisory Team exists to create an environment of greater missional purpose, effectiveness, wellness, and integrity. United under the Six Core Values of God's Kingdom Work, our team serves as advocates, advisors, mentors, and co-laborers in the mission.